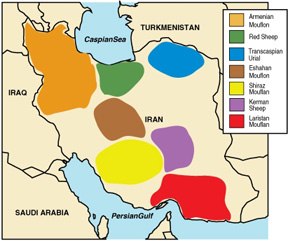 Ovis gmelini gmelini

Muflon de Armenia (Sp), Armenischer Mufflon (G), Mouflon d'Armenie (F). Named by Lydekker after ancient Armenia, which included what is now eastern Turkey, northwestern Iran, and the newly independent country of Armenia. Called Anatolian sheep in Turkey, for Anatolia, which is the Asian part of that country. Sometimes called transcaucasian mouflon, or Gmelin sheep after 18th century German zoologist S. G. Gmelin.

DESCRIPTION (male) Shoulder height 28-32 inches (71-81 cm). Weight 100-140 pounds (45-63 kg). Females are considerably smaller.

A graceful sheep with relatively long, slender legs. General color is reddish-tan with a narrow, grayish-white saddle patch. Underparts, lower legs and muzzle are white. Chest is dark brown. There is a narrow brown flank band and brown markings on front of the upper legs. In winter, there is a short black ruff on the lower neck and brisket. No bib. Horns are supracervical, curving above and behind the neck. Females usually have small horns, but sometimes are hornless.

DISTRIBUTION Found in Armenia, possibly the extreme southwestern tip of Azerbaijan, eastern Anatolia (Turkey), the northeastern corner of Iraq, and northwestern Iran east to Tabriz and south to the central Zagros mountains.

Outside Asia, Armenian mouflons have been introduced on private ranches in the United States.

TAXONOMIC NOTES Consists of the named races armeniana (eastern Turkey), gmelini (eastern Turkey), and urmiana (Kabudan Island in Lake Orumiyeh [formerly spelled Urmia], northwestern Iran), with gmelini Blyth, 1841 having priority. The sheep on Kabudan Island are said to have been introduced from the mainland.