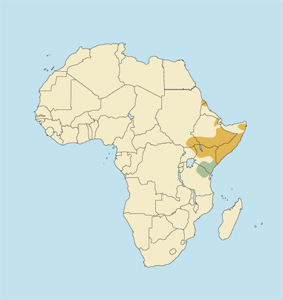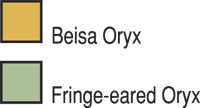 Oryx beisa beisa

Orix beisa (Sp), Beisa-Spiessbok (G), Oryx beisa (F). "Beisa" is said to be from the Amharic beza for this animal, or to be a misconception of the Somali be'id or bi'id. If the latter, it should have been "beida" rather than "beisa," but it is too late to change now.

DESCRIPTION The overall color of the beisa oryx is a sandy gray, with no black on rump or thighs. The black flank bands are wider than in the fringe-eared oryx, but narrower than in the gemsbok. The black facial stripes do not unite to form a muzzle band, thus the white stripes are continuous from above the eyes to the muzzle. Ears are rather large, and without a hair fringe. The horns are shorter and less divergent than the gemsbok's-similar to those of the fringe-eared oryx, but slimmer.

DISTRIBUTION Southeastern Sudan, Ethiopia, Somalia, northeastern Uganda, and in Kenya north of the Tana River. The Tana River forms the boundary between the beisa and fringe-eared oryxes.

TAXONOMIC NOTES Consists of annectens (central and northern Kenya, southern Ethiopia and perhaps into Somalia), beisa (Red Sea coast from northern Ethiopia south to Somalia), and gallarum (northeastern Uganda, southeastern Sudan and central Ethiopia), with beisa Ruppell, 1835 having priority. Differences among them are inconsequential and limits of distribution unclear.