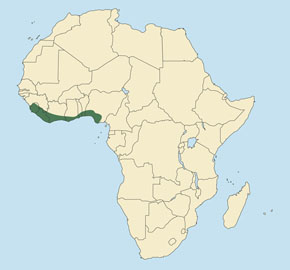 Cephalophus niger

Duiquer negro (Sp), Schwarzducker (G), Céphalophe noir (F). Called black deer in Liberia.

DESCRIPTION Shoulder height 19-20 inches (48-51 cm). Weight 25-35 pounds (11-16 kg).

A handsome, medium-sized duiker with a thick, brownish-black coat, that is darkest on the back and rump and somewhat lighter on the underparts. The head is brownish fawn, the forehead and head tuft are bright chestnut. The neck is pale reddish fawn, the throat whitish. The tail is black on top and white underneath. There are no inguinal (groin) glands. The horns (both sexes) are straight, weakly ridged at the base, and round in cross section. Some males grow horns that are quite long and thick for an animal this size. Females are similar to males, but have much smaller horns.

BEHAVIOR Seemingly solitary. More diurnal and less secretive than most forest duikers. Frequently seen crossing forest roads, especially in late afternoon.

HABITAT High rain forest, and also secondary forest.

DISTRIBUTION Guinea, Sierra Leone, Liberia, southern Ivory Coast, Ghana, southwestern Togo, southern Benin, and southwestern Nigeria west of the Niger River.

TAXONOMIC NOTES No subspecies are recognized.