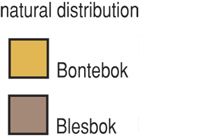 Damaliscus dorcas phillipsi

Blesbok (Sp), Blessbock (G), Blesbok (F), Blesbok (Af). "Blesbok" refers to the white facial blaze, or bles in Afrikaans.

DESCRIPTION Shoulder height 37-38 inches (94-96 cm). Weight 130-140 pounds (59-64 kg).

The blesbok is similar to the bontebok, except it is a little smaller, less richly colored, and has longer horns. The general color is reddish brown without the purplish gloss. The white facial blaze usually is divided by a narrow brown band just above the eyes. The rump patch is merely pale, not white, and does not extend around the base of the tail. The belly has much less white than a bontebok's, and the lower legs are mostly dark. The horns (both sexes) are similar to a bontebok's, but the rings are closer together, not as deep, do not encircle the horns, and are usually straw-colored-especially on the top of the rings. Females are similar, but smaller, and have thinner horns.

BEHAVIOR Gregarious, living in herds of 5-30, sometimes many more. Strongly territorial. A grazer that drinks water daily. Eyesight, hearing and sense of smell are good.

HABITAT Open grassland.

DISTRIBUTION Originally only in South Africa: from eastern and northwestern Cape Province through the Orange Free State to the southern Transvaal, and marginally into Natal. Though they once occurred in countless thousands, they were relentlessly hunted by early settlers until they nearly disappeared. In recent years, blesboks have been widely introduced and reintroduced into nearly all parts of South Africa until there is a wider distribution today than in the past, all of it on fenced farms and reserves. They have also been introduced in Namibia and Zimbabwe, where they were never indigenous. (For record keeping, we treat all populations as indigenous.)

REMARKS Although some blesboks are being farmed for meat production in South Africa, the majority live in a much wilder state than bonteboks and are a far more challenging game animal.