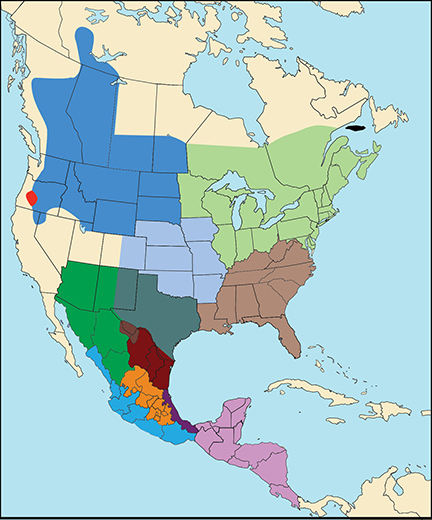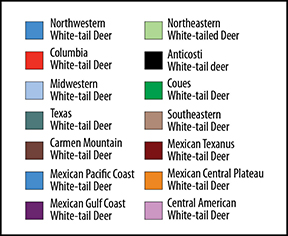 Odocoileus virginianus couesi

Venado cola blanca de Coues (Sp). Named in honor of Dr. Elliott Coues, naturalist and former U.S. Army physician. Also called Arizona whitetail, fantail, and sometimes dwarf whitetail.

DESCRIPTION One of the smaller whitetails, with shoulder height of 32-34 inches (81-86 cm) and weight of about 100 pounds (45 kg). Ears and tail are disproportionately long for the body size. The coloration is lighter, as is usual in desert animals, varying from fawn in summer to grayish in winter. Mature bucks normally have four points to a side including the brow tines.

HABITAT Desert regions, especially hills and mountains between 4,000-8,000 feet (1,200-2,400 m) elevation, usually with scrub oak and high grassy basins.

DISTRIBUTION This subspecies is isolated from other whitetails in most of the United States, but comes into contact with other whitetails in Mexico and New Mexico.

United States: Arizona and the western one-half of New Mexico (specifically west of a line running through Albuquerque and parallel to the western state line of New Mexico.
Mexico: Sonora and Durango states, and Chihuahua state municipalities of: Allende, Aquiles Serdán, Ascención, Bachiniva, Balleza, Batopilas, Bocoyna, Buenaventura, Carichi, Casas Grandes, Coronado, Cuauhtémoc, Cusihuiriachi, Chinipas, Dr. Belisario Domínguez, Galeana, Santa Isabel, Gómez Farías, Gran Morelos, Guachochi, Guadalupe y Calvo, Guazapares, Guerrero, Huejotitan, Ignacio Zaragoza, Janos, Madera, Mahuarichi, Matachi, Matamoros, Morelos, Moris, Namiquipa, Nonoava, Nuevo Casas Grandes, Ocampo, Riva Palacio, Rosario, San Francisco de Borja, San Francisco del Oro, Santa Bárbara, Satevó, Temosachi, El Tule, Urique, Uruachi and Valle de Zaragoza.