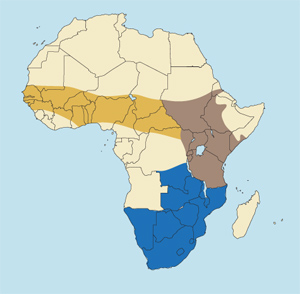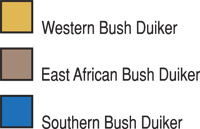 Sylvicapra grimmia abyssinicus

DESCRIPTION The East African bush duiker includes a number of local races from considerably different habitats and climates, so there is a good deal of variation in color. However, in much of the region its general color is yellowish gray through bright tawny, with a little black speckling. The black nose stripe is more pronounced in the western part of the distribution range. The coat is longer and shaggier at higher elevations. Horns are somewhat shorter than in the southern bush duiker.

DISTRIBUTION Southern Sudan and western Ethiopia; northeastern and eastern Congo (K) from the Sudan border southward to about Lake Tanganyika; Uganda, southern and western Kenya, and southern Somalia; Rwanda, Burundi and Tanzania.

TAXONOMIC NOTES Includes abyssinicus (Ethiopia), altivallis (higher parts of the Aberdares and Mt. Kenya), deserti (eastern and northeastern Kenya, southern Somalia), lobeliarum (higher parts of Mt. Elgon), lutea (probably Sudan east of the Nile, Uganda east of the Albert Nile), nyansae (northeastern Tanzania, southwestern and western Kenya), roosevelti (southern Sudan probably west of the Nile, northwestern Uganda west of the Albert Nile, and northeastern Congo [K]), and uvirensis (Rwanda, Burundi, adjacent parts of Congo (K) and Tanzania), with abyssinicus Thomas, 1892 having priority.