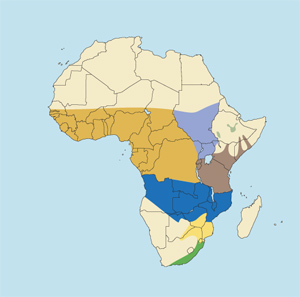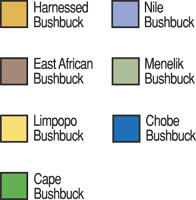 Tragelaphus scriptus delameri

Has also been called Masai bushbuck; however, that name should be restricted to the massaicus race of northern Tanzania. The scientific name is for Lord Delamere (1870-1931), a political leader of British settlers in Kenya.

DESCRIPTION Shoulder height 28-36 inches (71-91 cm). Weight 100-140 pounds (45-63 kg).

A larger bushbuck, brown in color, with spots rather than stripes. There is considerable variation in color and markings from different parts of the distribution range, and also among individuals. Bushbucks from mountain forests in Kenya (delameri) are dark brown with indistinct white markings. Tanzanian animals (massaicus) are paler with distinct rows of white spots on flanks and scattered spots on hindquarters. Females are more brightly colored and have more distinct markings.

DISTRIBUTION Kenya, except in the northwest; southern Somalia extending into southeastern Ethiopia along the Juba and Webi Shebeli rivers; and Tanzania.

TAXONOMIC NOTES Includes brunneus (west of Mt. Kenya), delameri (northwest of Mt. Kenya), eldomae (Mau Forest), fasciatus (Juba and Webi Shebeli valleys in southern Somalia and southeastern Ethiopia), haywoodi (Nyeri), insularis, massaicus (northern Tanzania), meruensis (Mt. Meru), olivaceus (eastern Kenya), reidae (Nakuru), and tjaderi (Nakuru), with delameri Pocock, 1900 having priority.