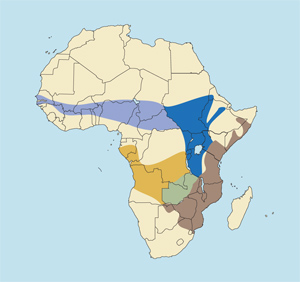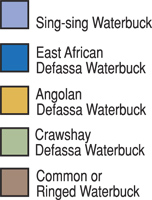 Kobus ellipsiprymnus defassa

Antilope acuatico defasa (Sp), Defassa-Wasserbock (G), Cobe defassa (F). Defassa is the name for this animal in the Amharic language of Ethiopia.

DESCRIPTION In the western part of their range, the coat is short and thin, and the color is gray without any bright rufous tinge. In the eastern part of their range, the coat is long and shaggy and a bright reddish brown color. There is a good deal of white on the face before the eyes, and a wide, white band across the throat. There is a solid white patch on the lower part of the rump below the tail.

DISTRIBUTION Essentially west of the Great Rift Valley (and west of the common waterbuck) in Ethiopia, southern and eastern Sudan, Kenya, Uganda, northeastern Congo (K), Rwanda, Burundi, and northwestern Tanzania.

Its distribution slightly overlaps that of the common waterbuck along the Rift Valley in Kenya and Tanzania.

TAXONOMIC NOTES Includes adolfifriderici (northeastern Tanzania west of the Rift Wall, and north into Kenya), defassa (central and southern Ethiopia), harnieri (northeastern Congo [K], Sudan, western Ethiopia, Uganda, western Kenya, Rwanda, Burundi and northwestern Tanzania), and tjaderi (Laikipia Plateau in Kenya), and with defassa Ruppell, 1835 having priority.