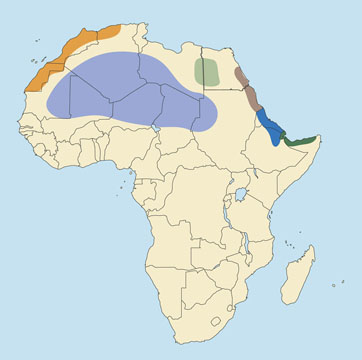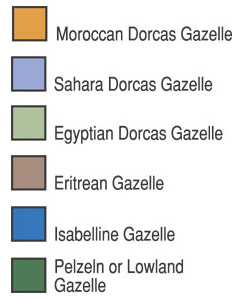 Gazella dorcas littoralis

Named after the country of Eritrea, which is inappropriate because this race is not found there.

DESCRIPTION Shoulder height about 22 inches (56 cm). Weight about 35 pounds (16 kg)

The Eritrean gazelle is slightly larger than the Egyptian dorcas gazelle, with longer ears and a more distinct flank band. The horns are farther apart at the base, shorter, S-shaped rather than lyrate, and have tips that hook inward. The general color is reddish brown, with the flank band darker than the back, and the underparts white. There usually is a blackish nose spot.

DISTRIBUTION The Eastern (Arabian) Desert and Red Sea Hills in Egypt, extending southward through the Nubian Desert and Red Sea Hills in Sudan.

Separated by the Nile from the Egyptian dorcas gazelle in Egypt and the Sahara dorcas gazelle in Sudan. Boundaries with the isabelline gazelle to the south are not clear, but, for simplicity in record keeping, we use the Sudan/Eritrea border.

Outside of Africa, the Eritrean gazelle is found in the Sinai Peninsula, and ranging into Israel.

TAXONOMIC NOTES Many authorities now lump the Eritrean (littoralis) and isabelline (isabella) gazelles, using the common name Eritrean gazelle and subspecific name isabella, as isabella Gray, 1846 has priority. But for now we continue to list them separately, because each is a traditional hunting category.