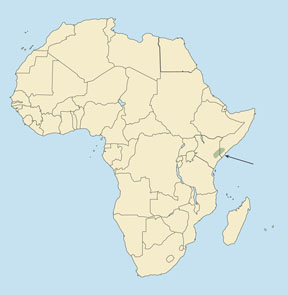 Damaliscus hunteri

Hirola (Sp), Hunters Leierantilope (G), Hirola, Damalisque de Hunter (F). Hirola is the Somali name for this animal. Named for its European discoverer, H. C. V. Hunter, who collected one on the Tana River in 1887. Sometimes called Hunter hartebeest, but that name should be dropped because the animal is not a hartebeest; it is a damalisc.

DESCRIPTION Shoulder height 39-42 inches (115-123 cm). Weight 160-170 pounds (72-77 kg).

A medium-sized antelope shaped much like a topi, but it is smaller, more lightly and gracefully built, and has much finer horns. The shoulders are not much higher than the hindquarters so that the slope of the back is less pronounced. Overall color is yellowish brown with the legs somewhat darker. There is a white chevron between the eyes. The tail is long and hairy, white with a black and white tip. The horns (both sexes) are long and rather thin, ringed in the bottom part, rising in a double (S-shaped) curve, and parallel for much of their length. Females are similar, but smaller, and have slimmer horns.

BEHAVIOR Lives in herds of 10-25. A grazer. Drinks when water is available, but can exist for long periods without it. Eyesight, hearing and sense of smell are all thought to be good.

HABITAT Open grassy plains and thorn bush.

DISTRIBUTION A very limited area in Kenya east of the Tana River and essentially north of Ijara; also in adjoining areas of extreme southwestern Somalia.

STATUS Listed as critically endangered by the IUCN. The hirola's numbers and distribution range have always been limited. Threatened by competition from domestic livestock within its very limited range.