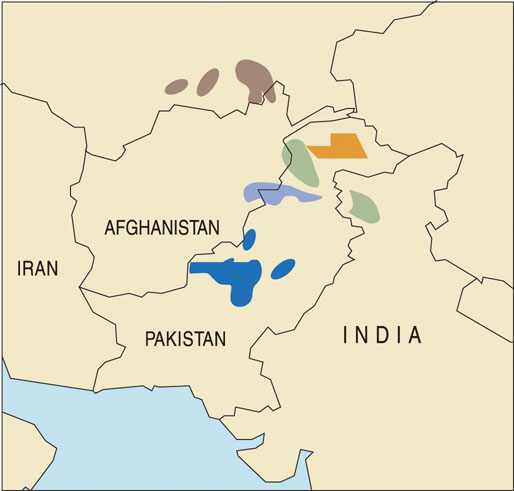 Capra falconeri megaceros

Markor de Kabul (Sp), Kabul Schraubenzeige (G), Markhor du Kabul (F). Also called Kabul (or Kabal) straight-horned markhor.

DESCRIPTION The Kabul markhor is larger in horn and body and has a longer neck ruff than most Sulaiman markhors. Its horns are intermediate between those of the Kashmir and Sulaiman races, forming a cline from the moderate flare of the former to the straight, tight twist of the latter. Typically, Kabul horns are straight, with up to three complete spiral turns in an open twist; however, Kashmir-type horns with a degree of flare are occasionally found within its distribution range as well. In colonial times it was customary to measure these horns in a straight line; however, SCI measures them around the curve along the keel that begins at the back of the base.

DISTRIBUTION Formerly from the vicinity of Kabul, Afghanistan, eastward to the Indus River south of Saidu, Pakistan, and southward in Pakistan to the Gumal River. Within this area the distribution was highly discontinuous, due partly to the erratic location of suitable cliffs and massifs and partly to local subsistence hunting and competition from domestic livestock. In 1978, it survived in Afghanistan only in the Kabul Gorge and the Kohi Safi area of Kapissa province, and in isolated pockets in between. As of 1987 in Pakistan, it was still found in the Safed Koh range, the areas near Mardan and Sheikh Buddin, and possibly between Pezu and the Gumal River.

STATUS Listed as endangered by the USF&WS (1976) and the IUCN and on Appendix I of CITES (1975).