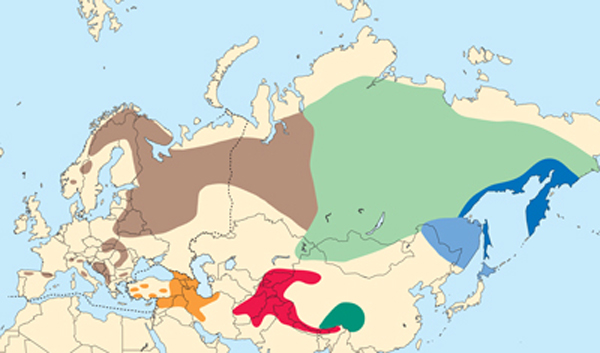 Ursus arctos beringianus

Also called far eastern brown bear.

DESCRIPTION (adult male) Head and body length 6-8 feet (183-244 cm), tail length 6-1/2 to 8-1/2 inches (16.5 to 21.6 cm), shoulder height 50-53 inches (12.7 to 13.5 cm). Some verified weights are 704, 675 and 627 pounds (320, 308 and 285 kg).

As with the Alaska brown bear, the Kamchatka brown bear grows large because of its abundant and protein-rich diet of spawning salmon and other anadromous fish in the coastal rivers, and from the comparatively mild climate that permits a shorter period of hibernation. It is a very large, dark bear with a large, massive skull. The forehead is broad and rather steeply elevated over the relatively short nose. The coat is long, dense and soft. Its color varies from pale yellow to blackish-brown and dull black, but dark individuals predominate. The legs are usually the same color as the body. The claws are dark brown, sometimes with light yellowish streaks at the tips, and are up to four inches (100 mm) in length.

DISTRIBUTION Far eastern Siberia, where it is found on the Kamchatka Peninsula, Karaginskiy Island, and northward throughout the Koryak Autonomous District. Also in the coastal strip west of the Sea of Okhotsk and east of the coastal mountains as far south as Uda Bay. Also on the Shantar Islands and the northern and southern Kuril Islands, as well as Sakhalin Island.

TAXONOMIC NOTES Includes the races beringianus (Shantar Islands) and piscator (Kamchatka),
with beringianus Middendorff, 1853 having priority.