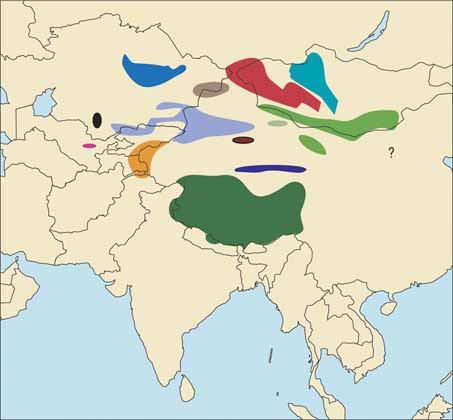 Ovis ammon collium

Other names include Kazakh argali, Kazakhstan argali and Semipalatinsk argali.

DESCRIPTION Similar to karelini in body size and shape, but has minor skull differences and horns. Coloration is dark brown above, separated from the white belly by a dark flank band. There is a creamy white neck ruff that blends into the darker body hair and a distinct white rump patch that does not extend above the root of the tail. Tail is long, with a dark tip. There are dark stripes down the front of the hind legs, but not always down the front legs. Head is darker than the neck, with a dark facial mask. Horns are angular in cross section at the base, and those of old males have a well-developed frontal-orbital edge.

DISTRIBUTION Eastern Kazakhstan, where it is found throughout the Karaganda Region, extending westward and northward into Akmola, northward into Pavlodar, and eastward into Semey (Semipalatinsk) regions. Stops short of the Tarbagatay Mountains and, therefore, does not mix with the Sair argali.

HABITAT Occupies lower, more arid country than most argalis.

TAXONOMIC NOTES Little known to Westerners until recently, with its classification uncertain. Carruthers thought it identical with the Sair argali, while Clark believed it extinct. Most Western and some Russian authorities have lumped it with the Tian Shan argali for years; however, in 1992, Geist recognized it as a distinct subspecies, and this has been accepted by the IUCN and others.

STATUS Population estimate by the Kazakhstan National Academy of Sciences (Plakhov & Baidavletov) after extensive surveys 1985-1992 was 10,000 animals and increasing. This subspecies appears to be well-managed.