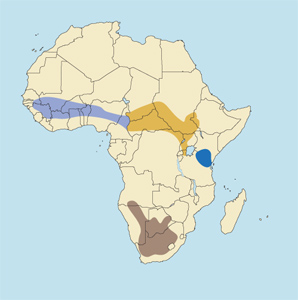 Alcelaphus buselaphus lelwel

Lelwel is a Djeng name for this animal.

DESCRIPTION Shoulder height 50-55 inches (127-140 cm).

The lelwel hartebeest is a large hartebeest with an extremely long head and frontal pedicel. Overall color is reddish tan. There are dark stripes on the front of the legs in the lelwel, modestus and tschadensis races, but not in the jacksoni race. The horns (both sexes) are thick and V-shaped when viewed from the front. They grow slightly outward and backward, then upward and forward, and finally bend sharply backward.

DISTRIBUTION Southern Chad; the Central African Republic; northeastern Congo (K); northern and western Uganda; southern Sudan; southwestern Ethiopia, south of the Blue Nile and west of the Omo River; and extreme northwestern Tanzania. Extinct in Kenya and, presumably, in Rwanda.

TAXONOMIC NOTES This category includes four listed subspecies: jacksoni (northern and western Uganda, northern Rwanda, the Bukoba district of northwestern Tanzania, and western Kenya), lelwel (northeastern Congo [K], southern Sudan, and southwestern Ethiopia south of the Blue Nile and west of the Omo River), modestus (Central African Republic) and tschadensis (southern Chad), with lelwel Heuglin, 1877 having priority.

Hybrids between the lelwel and tora hartebeests have been reported in eastern Sudan and western Ethiopia, from the Blue Nile southward to about nine degrees north latitude. Lelwel x tora hybrids that are predominantly tora have also been reported north of the Blue Nile in western Ethiopia.