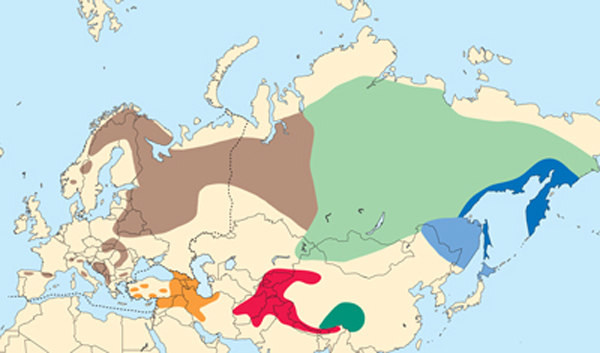 Ursus arctos syriacus

Sometimes called Syrian brown bear.

DESCRIPTION A smaller brown bear, considerably paler in color than the Eurasian brown bear to the north, with a coarser and sparser coat. Color varies from pale straw to dull grayish-brown, with a large dark brown patch of long hair on the withers and sometimes a rather wide dorsal stripe extending back from it. There may be a dark brown patch on the head and sometimes there is a white collar. The claws are straighter and lighter in color than in northern races. Smaller, lighter colored bears tend to occur at higher altitudes, with larger and darker bears in the forests below.

DISTRIBUTION Anatolia (Asian Turkey), Syria, Iraq, Iran, and the Caucasus region of Russia, Georgia and Azerbaijan.

TAXONOMIC NOTES Includes these named races: syriacus (Lebanon), schmitzi (Palestine), meridionalis (Caucasus), lasistanicus (Black Sea coast), caucasicus (south slope of Caucasus), dinniki (Caucasus), smirnovi (north slope of Caucasus), and persicus (northern Iran), with syriacus Hemprich & Ehrenberg, 1828 having priority.