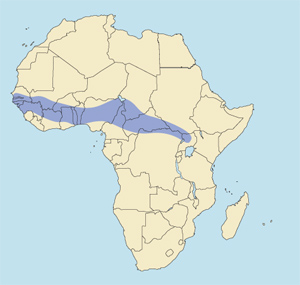 Cephalophus rufilatus

Duiquer de flanco rojo (Sp), Rotflankenducker (G), Céphalophe à flancs roux (F).

DESCRIPTION Shoulder height 18-19 inches (45-48 cm). Weight 25-30 pounds (11-14 kg). (Many authors report the shoulder height as 14 inches [356 mm], but this is incorrect for adult specimens.)

A rather slender, elegant duiker. The general color is bright orange red, with a broad bluish-gray stripe from nose to tail (lighter in the western race, darker in the eastern), widening on the back, and bluish gray lower legs. The head tuft is black. The ears are wide, and blackish on the back. The tail has a black tip. Chin, throat and belly are whitish or light orange. Skull is narrow, with the largest and deepest preorbital gland pits for its head size of any red-colored duiker. Inguinal (groin) glands are present. The horns (in males only) are cone-shaped, ringed at the base, straight, and grow backward in the plane of the face. Females are similar to males, but slightly larger and without actual horns, although they may have small tubercles.

BEHAVIOR Red-flanked duikers inhabit more open country than other forest duikers, thus are more frequently seen. They live on the edge of the forest, hiding in dense cover, but emerging into openings to feed. They live singly or in pairs, and are most active during early morning and late afternoon, feeding on leaves and grass. They run in a bouncing manner with the head down. Alarm call is a shrill bark.

HABITAT Forest edges, gallery forest, and savanna thickets. Not in primary rain forest.

DISTRIBUTION Widely but locally distributed in West and Central Africa, specifically: southern Senegal, Gambia, Guinea-Bissau, Guinea, northern Sierra Leone, southern Mali, southern Burkina, northern Ivory Coast, northern and eastern Ghana, Togo, northern Benin, extreme southwestern Niger, southern and central Nigeria, central Cameroon, far southern Chad, most of the Central African Republic, southwestern Sudan, and extreme northeastern Congo (K). May still exist west of the Albert Nile in northwestern Uganda.

TAXONOMIC NOTES Two subspecies are listed, which we do not separate: rubidor (from Cameroon eastward) and rufilatus (from Cameroon westward).