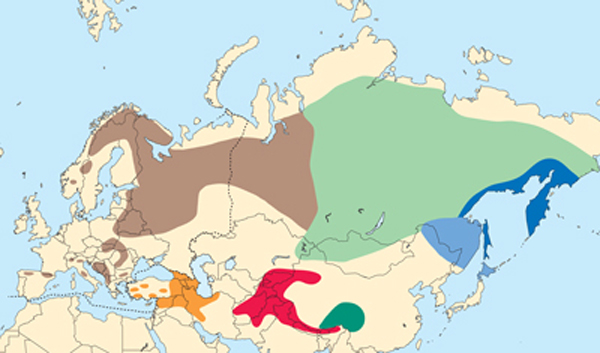 Ursus arctos collaris

DESCRIPTION The Siberian brown bear is intermediate in size between the Eurasian and Kamchatka brown bears. It is larger than the Eurasian brown bear, with more massive bones and a somewhat larger and heavier skull, but smaller than the Kamchatka brown bear, with a considerably smaller and lighter skull. The fur is long, soft and dense-indeed, it is more luxuriant than that of any other Siberian bear. The color is usually dark brown with noticeably darker legs, but will vary from light pale brown to dark brown, and some individuals will show yellowish, cinnamon or black tones. The claws are brown to blackish-brown, strongly curved, and up to 3-1/3 inches (85 mm) in length.

The brown bears of the Kolyma and Anadyr basins are included in this category for now; however, they are similar to the arctic grizzlies of North America, being small, long-haired and aggressive. Some believe they should have their own category.

DISTRIBUTION East of the Yenisey River in most of Siberia (except for the habitat of the Kamchatka and Amur brown bears.) Also in northern Mongolia, far northern Xinjiang, and extreme eastern Kazakhstan.

TAXONOMIC NOTES The Siberian brown bear category includes the following subspecies that have been described by various authorities: collaris (Siberia), sibiricus (Siberia), jeniseensis (Krasnoyarsk region), kolymensis (Kolyma River), and baikalensis (Irkutsk region), with collaris Cuvier & Geoffroy, 1824 having priority.