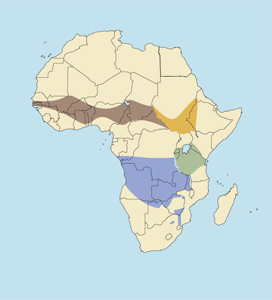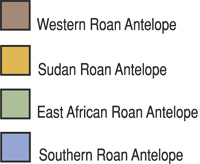 Hippotragus equinus equinus

DESCRIPTION The general color is a grayish roan, with the forehead black in both sexes. Roan from north-central Angola have been described as redder than other specimens.

DISTRIBUTION Extreme southern Congo (B) near the mouth of the Congo River, southern Congo (K), Angola, Zambia, northern and central Malawi, far northern and northeastern Namibia including the Caprivi Strip, northern Botswana, Zimbabwe, parts of Northern Transvaal in South Africa, and western Tete Province in Mozambique. Roan also have been introduced on private ranches in other parts of Namibia and South Africa.

At one time roan were also found in southern Malawi, North West Province in South Africa, Swaziland, and parts of southern Mozambique; however, they have been extinct in these areas for years.

TAXONOMIC NOTES The SCI southern roan category includes the former Angolan roan. In earlier editions, there were separate categories for southern roan (equinus), from Zimbabwe and parts of South Africa and Mozambique, and Angolan roan (cottoni), from Angola, Zambia, and parts of Congo (B), Congo (K), Namibia, Botswana and Malawi; however, they have now been combined in a single category because they exhibit no discernable differences. We believe "southern roan antelope" is the more meaningful common name for this animal, and use the subspecific name equinus Desmarest, 1804 because it takes precedence over cottoni.

STATUS Roan are totally protected in Zimbabwe, where they number fewer than 2,000. They are on the verge of extinction (if not already so) in Mozambique. Indigenous roan are totally protected in South Africa, where there are about 300 in Kruger National Park and another 150 in three provincial nature reserves in Northern Transvaal. Roan hunting in South Africa today is limited to private ranches in Northern Transvaal, North West, and Northern Cape provinces and is for privately owned animals that are imported from West Africa, Zambia and perhaps elsewhere, making their genetic background uncertain.

Populations of southern Angolan roan from other parts of their distribution range are secure.