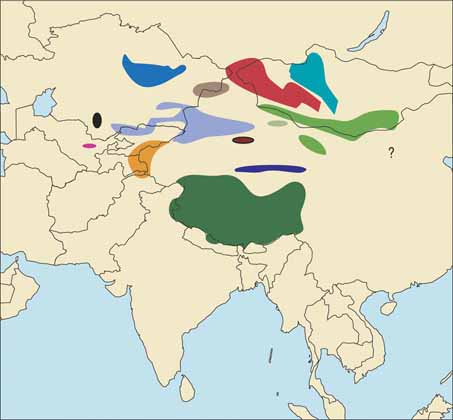 Ovis ammon hodgsoni

Argali del Tibet (Sp), Tibet Argali (G), Argali du Tibet (F). Called nyan in Tibet. Named after British naturalist Brian H. Hodgson (1800-1894).

DESCRIPTION (male) Shoulder height 43-46 inches (109-132 cm). Weight 200-220 pounds (90-100 kg), sometimes more.

A large argali. The horns are less massive than in an Altai or Gobi argali. They form a tighter spiral with little or no flare, and are usually less than a full curl. The tips are usually broken or broomed, the surface wrinkles are close together and only moderately prominent, and the frontal edges are rounded. The longest horns of record were from Ladakh and measured 55-1/4 inches (140.3 cm), and the largest bases were 19-3/4 inches (50.2 cm) (Rowland Ward, 1898). In winter, the upper parts are grayish-brown, with the throat, chest, rump, underparts and inside of legs white. There is a dark streak down the front of the legs. The head is brown with a white muzzle. Males have a ruff of long white hairs on neck and throat, and a dark crest on the back of the neck. Females have a short, dark throat ruff.

HABITAT Open, rolling plateau country at altitudes of 12,000-15,000 feet (3,600-4,600 m).

DISTRIBUTION A very extensive range, covering Ladakh (northern India), northern Nepal, northern Sikkim (India), possibly in northern Bhutan, most of Tibet, northwestern Sichuan (China), extreme southwestern Gansu (China), and southern Qinghai (China) to the Kun Lun and Burhan Budai mountains.

TAXONOMIC NOTES Consists of ammonoides (Himalayas), bambhera (Nepal), blythi (Tibet), brookei (Ladakh), henrii (Tibet), and hodgsoni (Tibet-Nepal frontier), with hodgsoni Blyth, 1841 having priority.

STATUS Listed as endangered by the USF&WS (1976) and on Appendix I of CITES (1975). Originally listed by CITES at the request of the Indian delegation and without debate, reportedly because the Ladakh population was being overhunted by the Indian troops who were stationed there.